Having a restaurant today is almost impossible without taking it online. Modern users browse Internet to get any info they need. Thus, creating a website for a restaurant or a food shop is a must-have if you wish to get more customers. Getting a nice-looking website is not such a headache as you might thought. Today you can save significantly on money and time with website templates. These ready-made solutions may scare away some users because they're not used to them. But if you take a closer look, you may see that getting a template based on a steady CMS, tweaking it a bit and empowering it with your own content and necessary functions is much faster and easier that you think.
And don't worry about security – modern platforms, like PrestaShop, WordPress, Joomla and others keep their security level high.
Best Eye-Candy Sweet Shop and Restaurant Themes
In any case, you can get help from your template provider whenever you need it. Thus, TemplateMonster.com, one if the largest template marketplaces, offers a lifetime free tech support available 24/7 and a professional Service Center. It means you don't have to pay extra money when you have some questions or issues with your template: tech support service is ready to help you. Now let's check the coolest sweets store and restaurant themes of 2018 you can try for your own website.
Sweet Shop WordPress Theme in Pink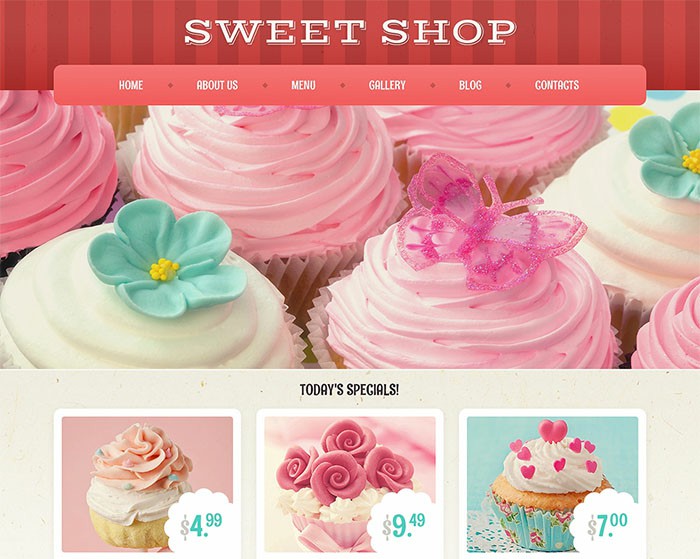 Sweet photos of this theme are so tempting that no one can resist but click to see what more your cafe offers. You can choose among various custom post styles to present your products to their best.
Cafe and Restaurant WordPress Theme
Pure-White Joomla Theme for Ice Cream Shop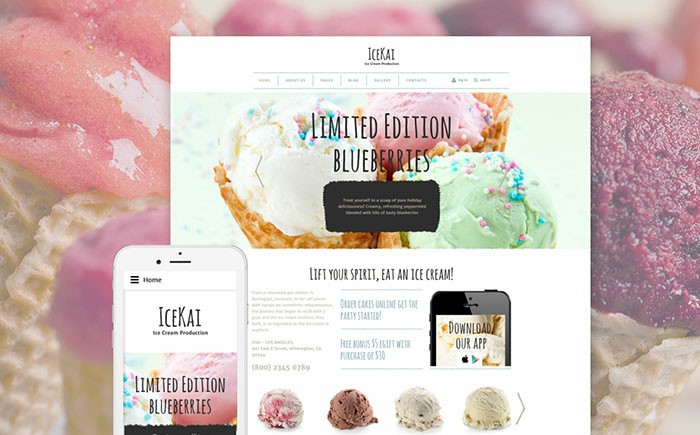 This template is breathing fresh and frosty air – exactly what a user may expect from an ice cream shop. Built-In color switcher allow you to change the style and choose the palette that suits your brand colors.
Bright CMS Template for Bakery Website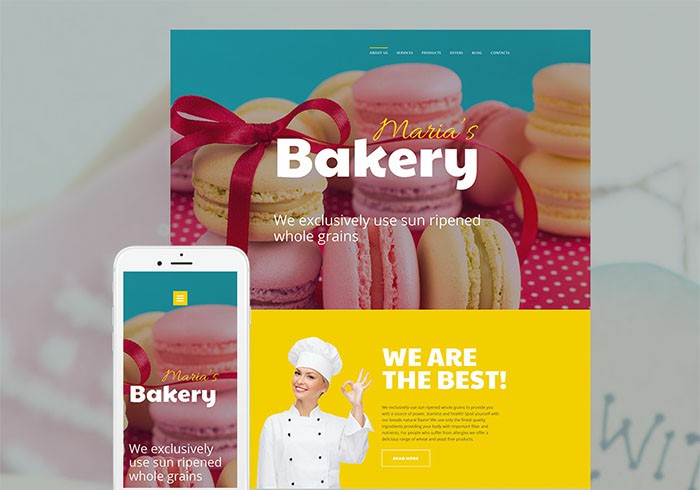 Vibrant design of this template looks extremely attractive and allows presenting products of your bakery to the full extent. Unique drag-and-drop panel with thrilling widgets make customization process a snap.
Ice Cream Cafe Theme with Creative Header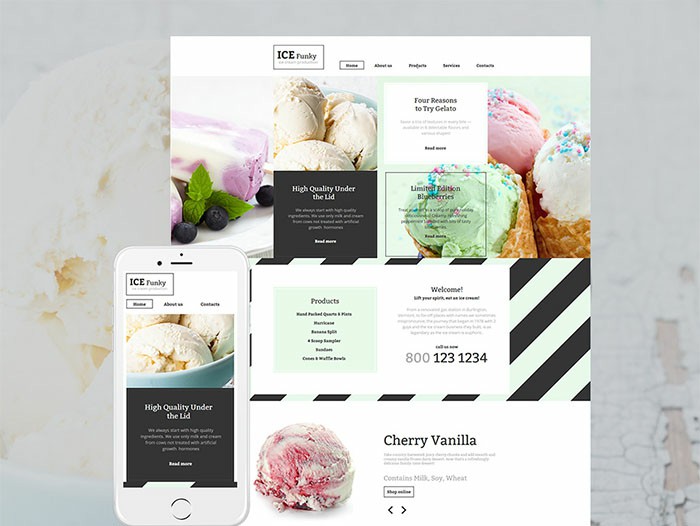 This theme combines eye-candy design with rugged CMS inside. 20 widget and modules along with 8 slider and gallery styles allow creating a website with all functions one can dream of.
Chocolatey Theme for Cafe Website with Split Layout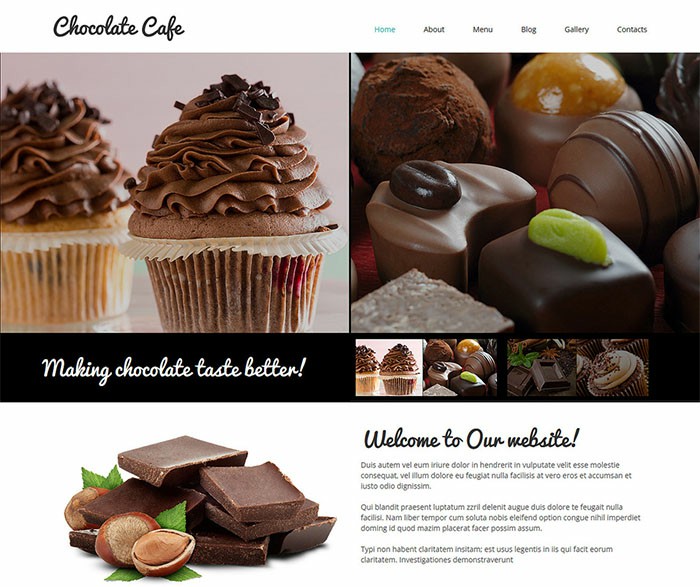 Mouthwatering design of this theme leaves users breathless! Creative layout allows presenting products in the most favorable light and attract customers with amazing visuals.
Candy Store Website Theme in Pastel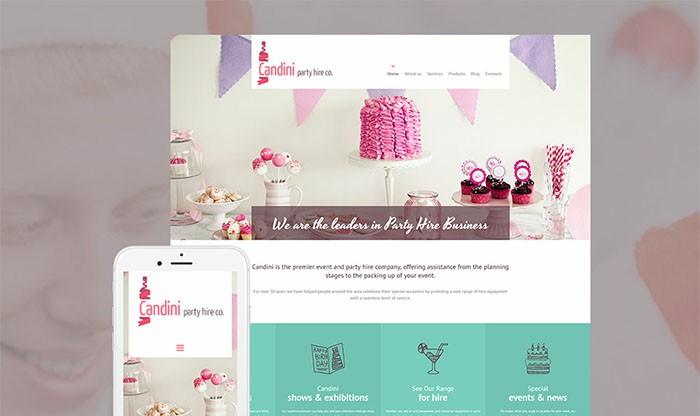 This template makes use of a cool CMS that allows you building a website fast and with no efforts. With its presets builder and color picker functionality you can adjust layout and colors to your needs.
Ice Cream Cafe Theme with Pink Highlights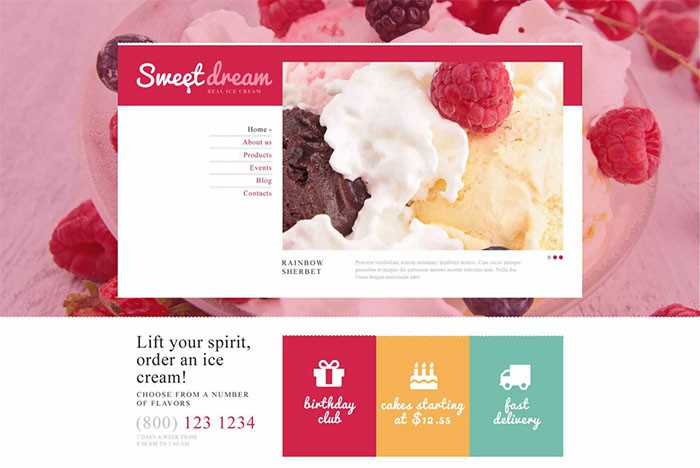 Creative theme for an ice cream shop makes use of a creative design that includes a catchy slider and creative sidebar with store categories. Parallax effect adds vibrance to the theme and makes it more attractive.
Ice Cream Joomla Template
Bakery Website Template with Catchy Slider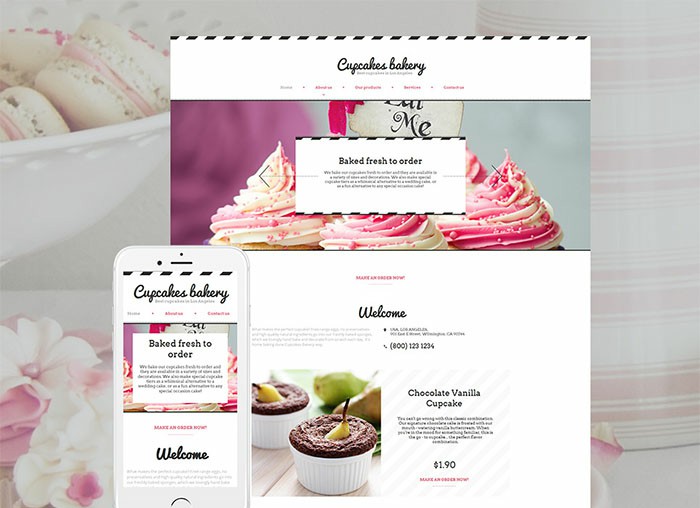 This template has 8 slider and gallery options that allow playing with design and creating various styles for a website. Blog functionality will help you promoting your website and getting traffic.
Sweet Shop Moto CMS HTML Template
Cooking Website Theme in Minimalist Style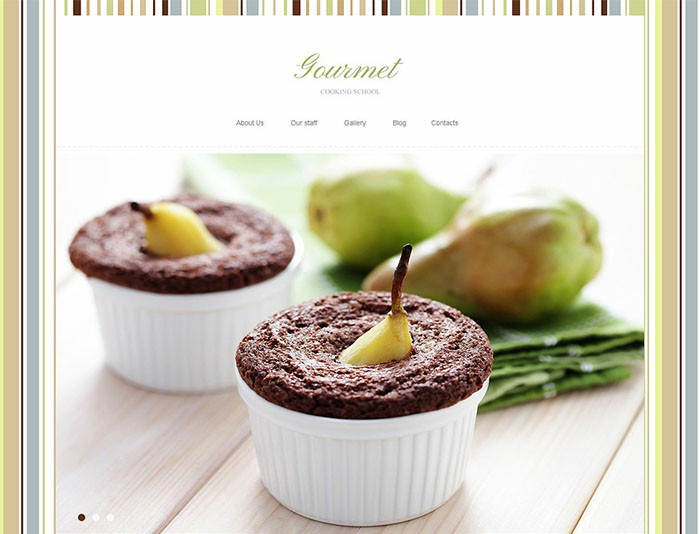 Striped background adds depth and vibrancy to this clean-style template. Custom post types offer broad opportunities for an owner and help making the website more suitable the overall style of a brand.
MotoCMS Theme for Ice Cream Store with Round Elements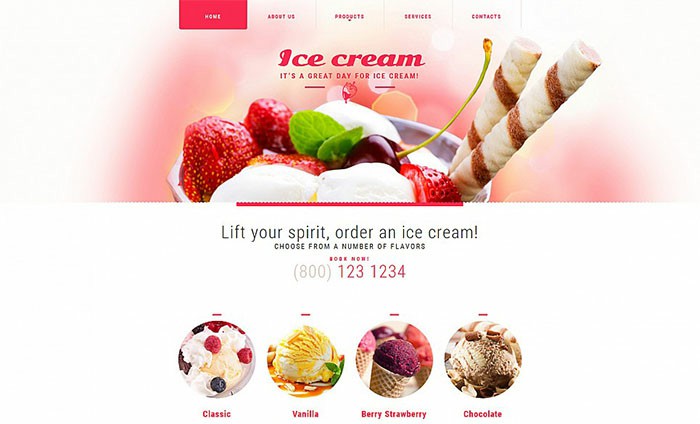 This theme with round elements provides a website with smooth and eye-candy design. Due to a unique Presets Builder, you can adjust the layout, color palette and elements style to your needs in a few clicks.
Cafe Theme with Split Layout Design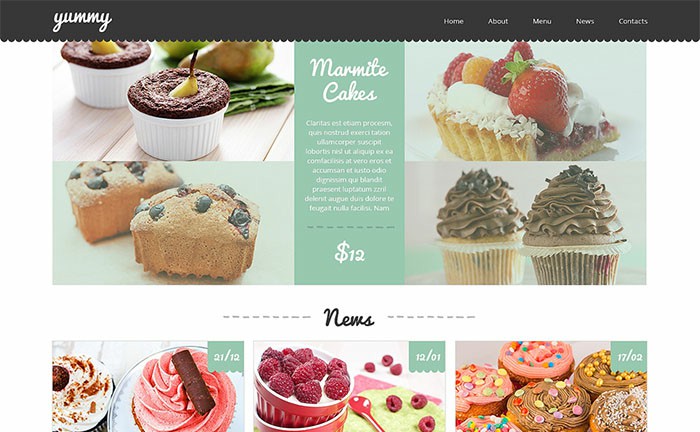 Split layout is one of the latest design trends. This template makes a great use of this kind of layout along with animated effects for gallery. Custom page types allow choosing the best style for your website.
Cake Store Template in White Color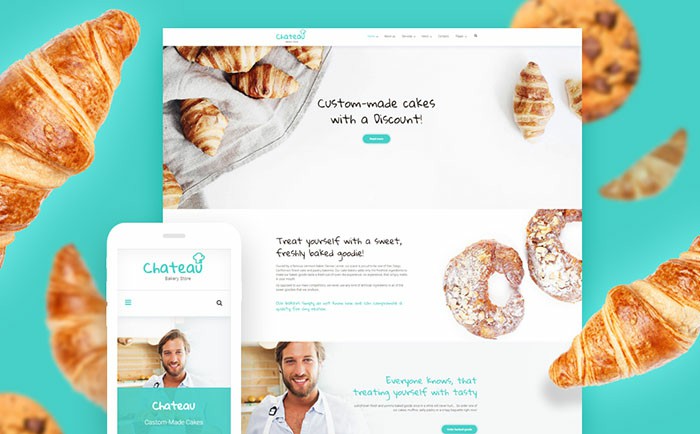 Pure-white color allows creating a fresh and clean atmosphere of a French bakery. Multiple layout options help a user choosing the layout that will highlight the best sides of the brand.
Confectionery Website Template with Mouthwatering Visuals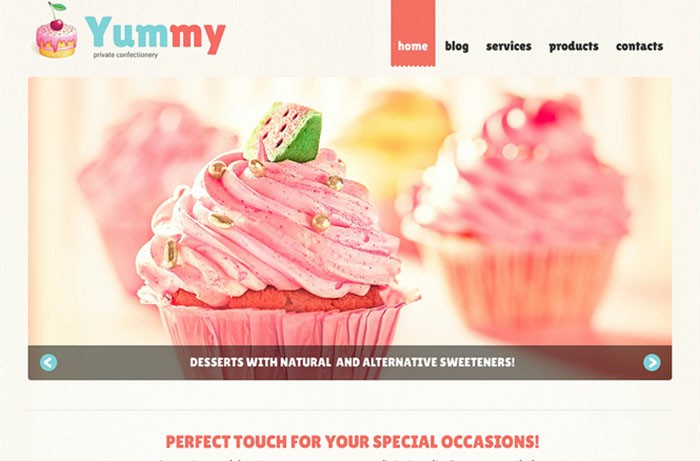 This clean and fresh design is one of the best choices for a sweet shop. Large slider allows showcasing products right on the home page. Testimonials section in the sidebar helps increasing brand awareness.
White Template for a Restaurant Website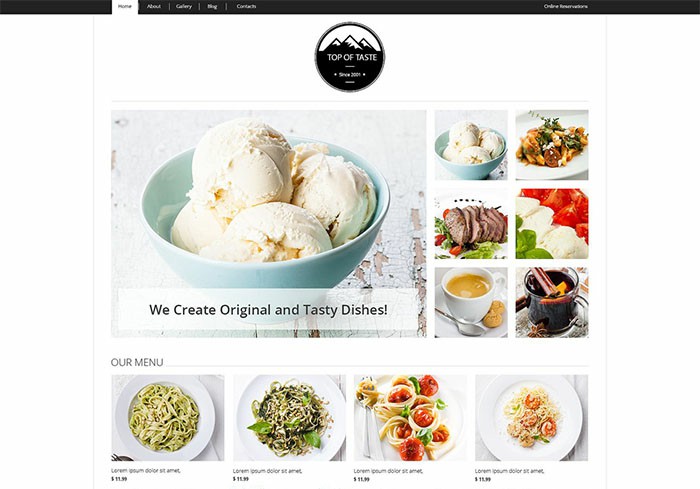 White is a color that speaks of purity and elegance. It makes this template a perfect fit for a restaurant website that offers the highest quality dishes and provides comfort for each customer.
Clean Theme for Food Store with Typography Focus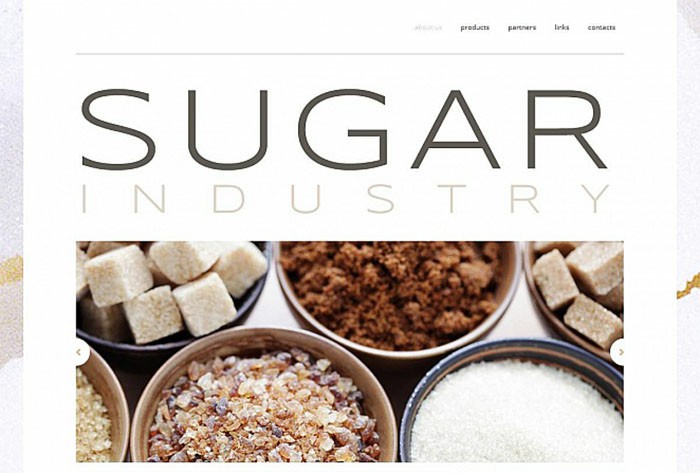 This theme uses the latest design trend – huge typography. Along with powerful functionality including 8 gallery and slider options and over 20 modules, it makes this theme a number one solution for a food website.