Ataul's Web Designs – committed to providing best solutions. It's an affordable web design and inbound marketing team, always addicted to give you best solutions and 100% satisfaction. We're well established outsourcing trainer in Chittagong, Bangladesh. We've witnessed a phenomenal growth in a seemingly short span of time. The primary aim of the agency was to provide website designs and internet marketing to English clients but as we spread our wings, the company also served the clients for their E-Commerce,websites and marketing related requirements. We now specialize in Customized CMS, E-Commerce websites, Graphics Design and Search Engine Optimization.
The company has a team of Web Designers & IT graduates who are thorough professionals with experience in designing and programming. There is a well experienced team comprising of heads of marketing and strategy making management graduates who understand the requirement of our valued clients and work out professional strategies to execute the customized and the individual needs of the client. The team of Web Designers and IT graduates keep the clients' approach towards business growth as their first priority and deliver the projects on time. Our forte lies in delivering what we promise and going beyond the ordinary and walking that extra mile to meet client requirements. We remain unfazed by hard work and do not compromise on quality and constantly raise the bar for ourselves with every project that we undertake.
Meet The Team
Small team of infinity, always inspired by a legend!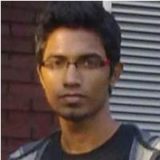 Ataul Ghani
Web Designer & SEO Expert