If you looking a WordPress Theme for job boards site! This is collection of the most popular Job Board WordPress themes help you easy create awesome job sites. There are more and more WordPress Job Boards Themes popping up and hence, a lot for WordPress themes and plugins are being designed and developed for that purpose so creating a job listing website has never been easier with WordPress. These themes features front-end submission, location aware search, resume creators, visual builders and much more. Here are just some 15 Best Job Board Responsive Themes for WordPress To Create Job Sites 2018.
Best Responsive Job Board WordPress Themes
We're shearing of the best Responsive Job Board WordPress Themes. Let's check out the following collection here.
Jobera – Job Portal WordPress Theme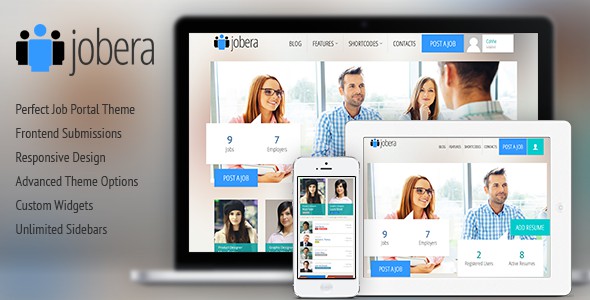 Jobera is a job portal WordPress theme that allows you to create a useful and easy to use job listings website. Jobera is compatible with WP Job Manager – Resume Manager add-on. Job seekers can list their resume covering past experience, education, skills, and specialities. A separate section for browsing resumes is visible and even searchable. With the job search market so hot, now is the time to capitalize!
Jobify – WordPress Job Board Theme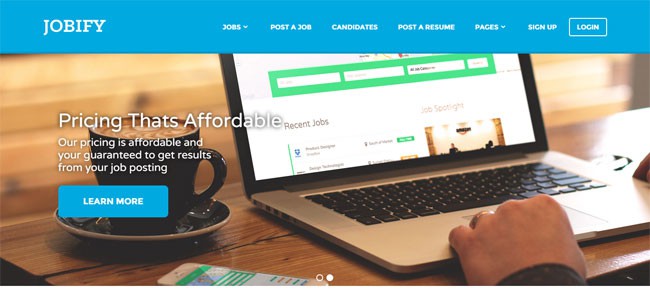 Creating a job listing website has never been easier with Jobify — the easiest to use job board theme available. Create a community of employers and prospective employees. Simple live searching and filtering makes finding relevant jobs easier than ever. A fully customizable homepage means you control the layout of your website. Charge a fee for job listings, and easily monitor and approve submissions. WordPress may be the part that takes the longest – installing the plugins and Jobify is fast and easy. You'll be connecting businesses with people actively looking to fill positions immediately.
WPJobus – Job Board and Resumes WordPress Theme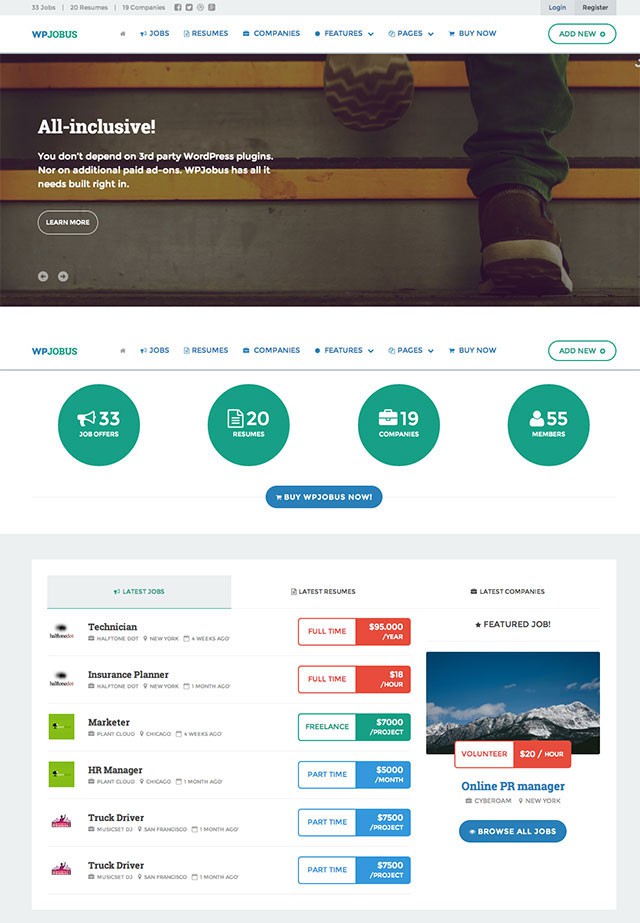 WPJobus has been designed to make it as easy as possible to build a job board portal website with WordPress. It is fully responsive and bundled with brilliant features such as Google Maps and AJAX search. With its sophisticated directory function, you are able to put up a professional job board portal where consumers can browse, search and filter entities like jobs, companies or resumes.
JobEngine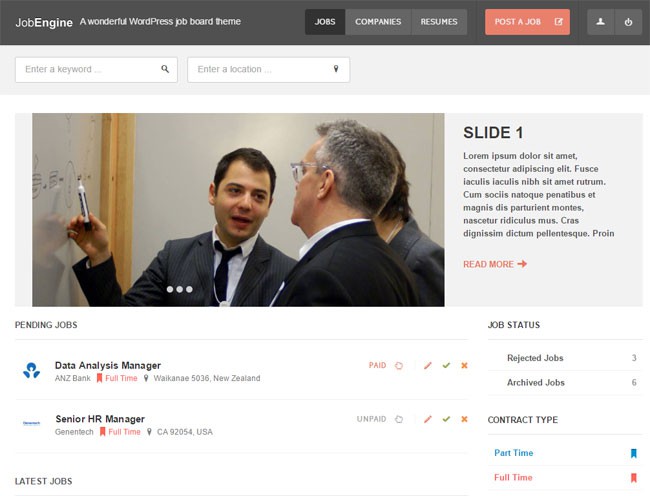 JobEngine is a clean, modern and highly customizable WordPress theme that combines powerful tools with a simple user experience. This theme packs s simple job management tools that allow to sort listings based on location, job type, category and other parameters. JobEngine is optimized for dozens of payment options and currencies to bring your listing website globally. The theme has plenty of other cool features that I haven't seen on other themes and it is worth to see their demo to understand how well crafted it is.
JobBoard – Responsive Job Market Theme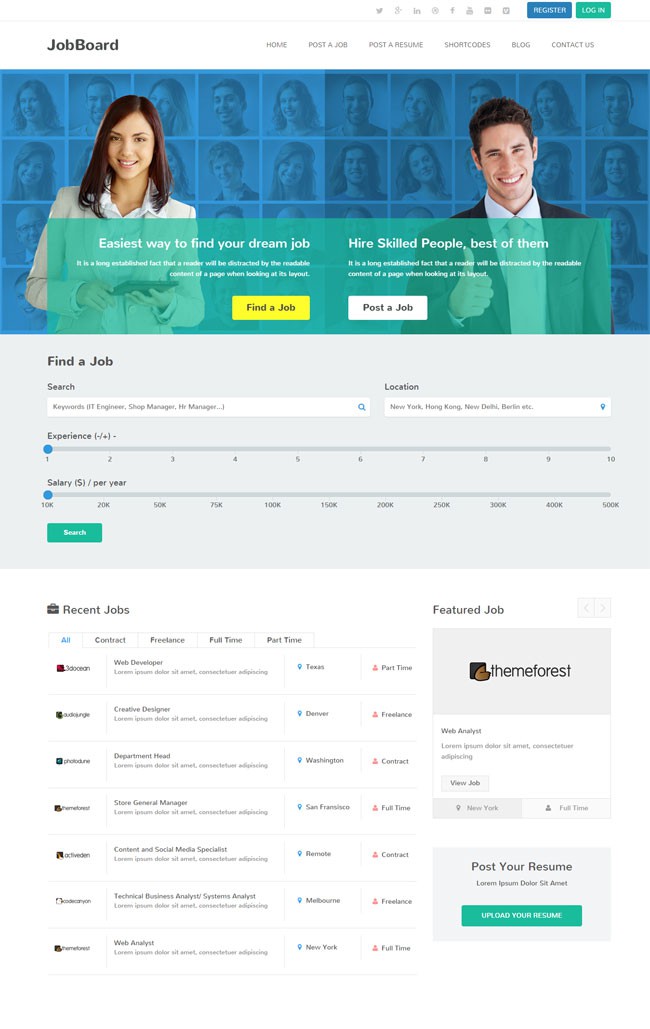 JobBoard is a job listing, job directory or job marketplace WordPress theme which has nice, clean, simple design with tons great premium features: responsive layout, frontend submission, advanced job search functions, paid job listing with Paypal payment and much more.
PetSitter – Job Board Responsive WordPress Theme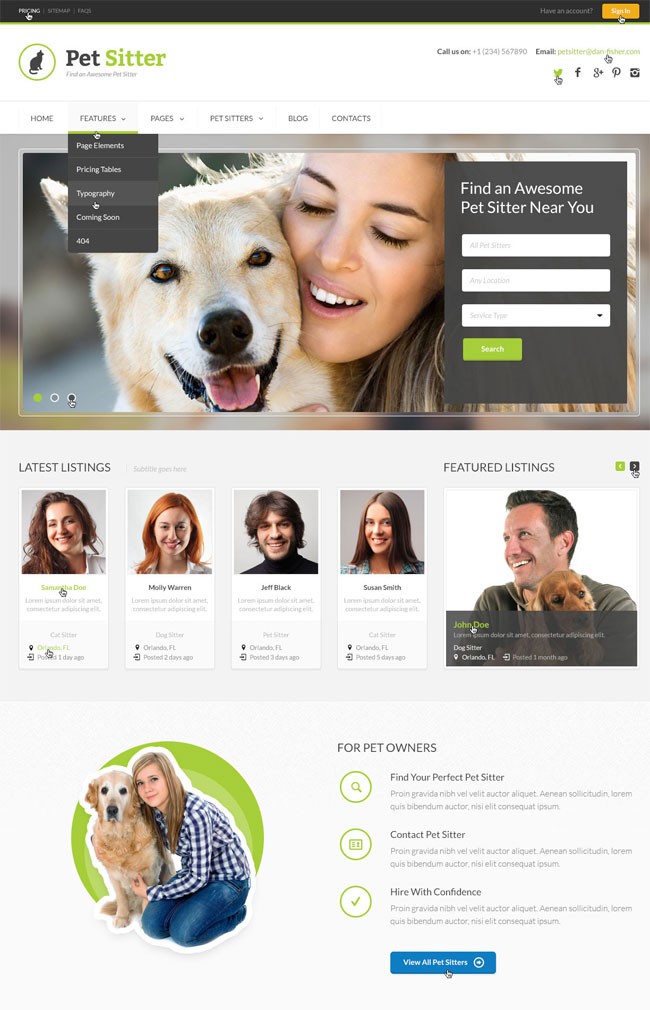 PetSitter is the perfect choice for anyone creating a website to list job vacancies related to pets or pet oriented sites.
JobRoller – WordPress Job Board Theme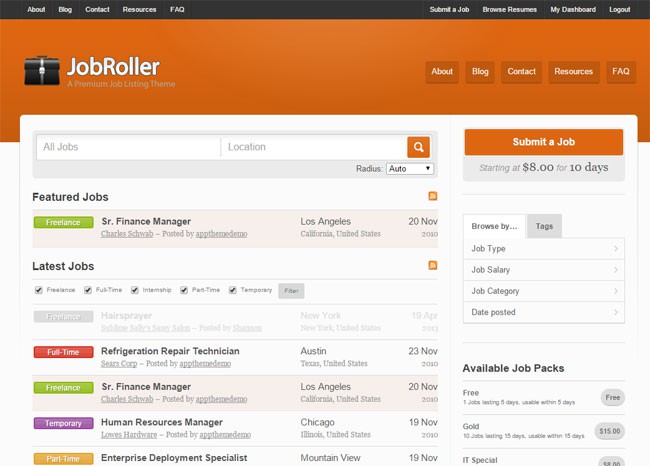 JobRoller is the most popular job board theme for WordPress. Our feature-rich application theme was built for ease-of-use and tight integration with WordPress so you'll be online, selling job listing space, and accepting new resumes within minutes.
It includes separate portals & tools for both job seekers and employers – everything you need to quickly deploy and establish your own online recruitment business!
Jobifier – Job Portal WordPress Theme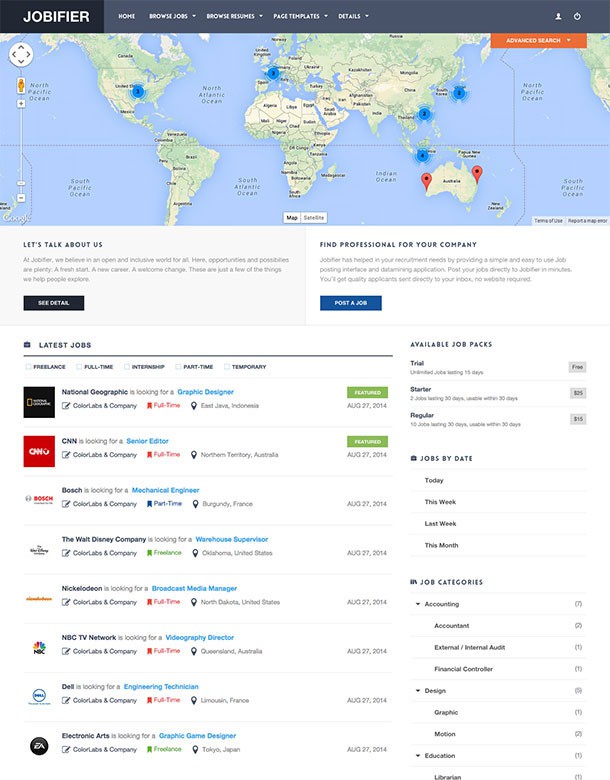 Jobifier is great premium WordPress application theme for recruitment companies, job boards and any medium to large size company that usually have multiple open job listings. Delivering the right fit for every hire and helps companies hire the best talent and offers the best opportunity for job seekers to get hired. Clean and easy to use theme options that allow you to control every aspect of this theme.
Jobifier is the best of free and paid job board solutions, with fully automated revenue generator and worth for the investment. Create any plans for selling jobs listing space and accepting new resumes with specific details, possibly used with this theme.
Nine to Five – Premium WordPress Jobs Theme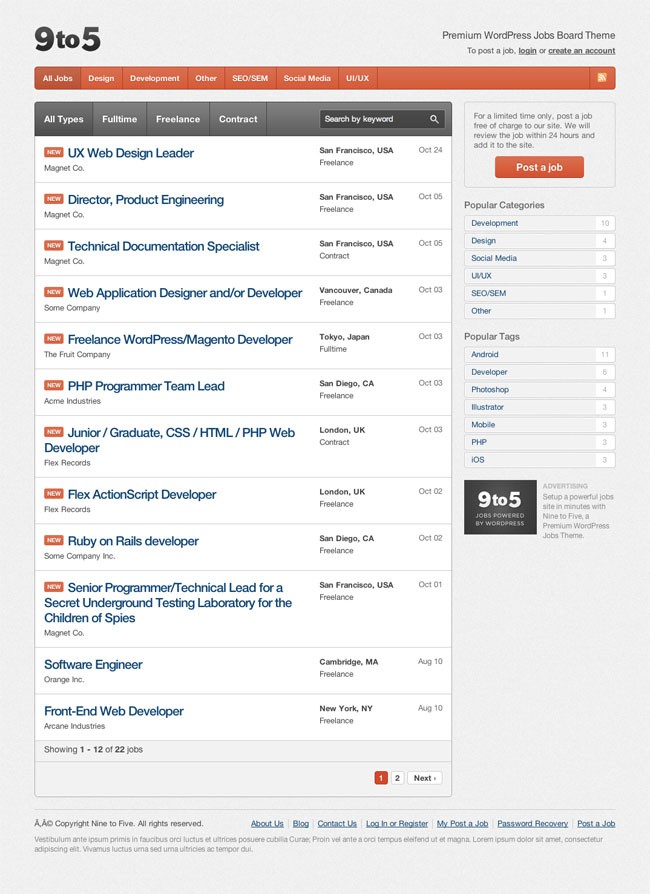 Nine to Five is a clean, simple and powerful job listing theme that features over 50 customization options that allows you to create the job board website you have always wanted. The best thing is that you don't need to learn new platform since it is based on pure WordPress. It is highly customizable theme and can be tweaked to support any currency, any payment options and much more. Additionally this theme has Google Maps integration, advanced sorting options, SEO and translation ready layout. This is the cleanest yet one of the most powerful job board theme.
Job Board – Ultimate job directory WordPress theme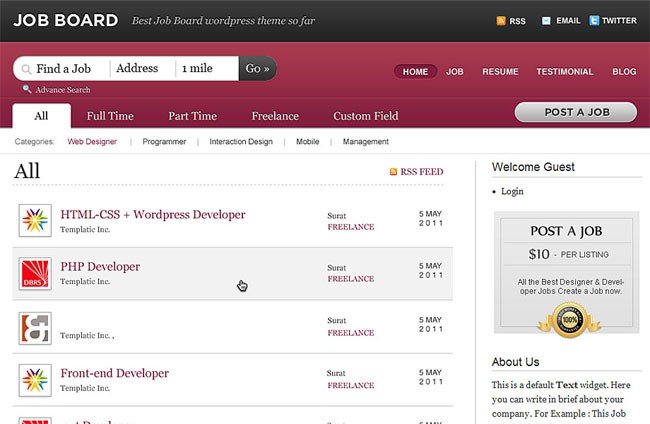 Job Board from Templatic is an all-in-one app-theme for building a job directory website with WordPress. After the 1-click installation, both jobs and resumes can be created and managed on the site, with custom categories available for organising both types of content more effectively.
Job listings can also be organised using the included job types, however users are free to create their own additional types for creating a more relevant structure for their site's listings. As job listings are submitted via the frontend submission forms, the forms can be edited to include any additional fields that are required for handling the type of listings your site features.
JobJockey – Job Portal WordPress Theme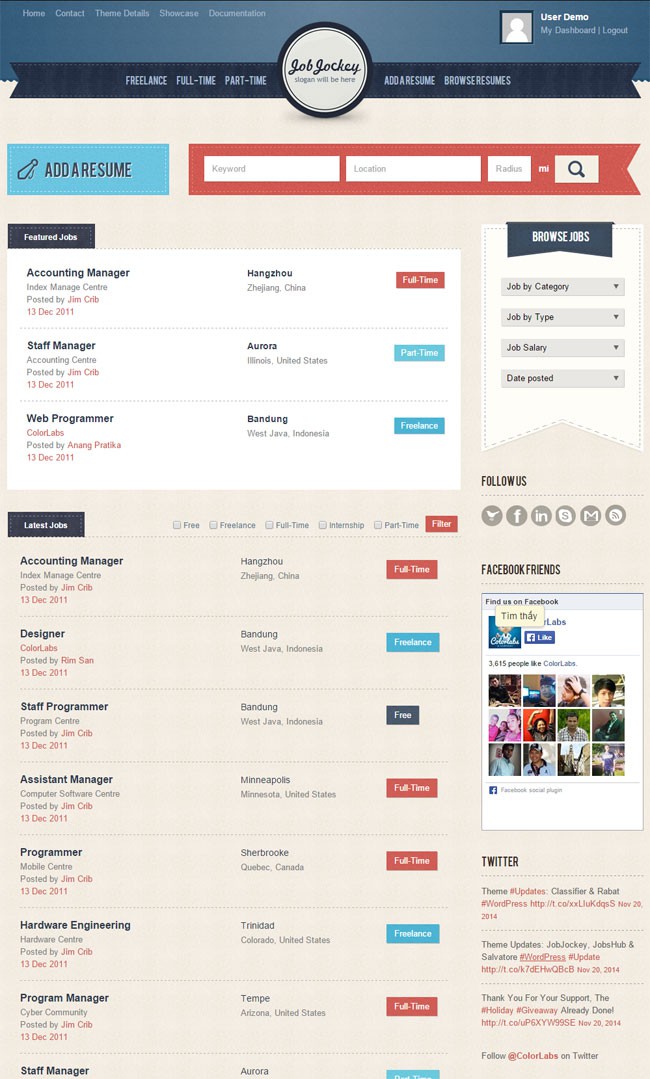 JobJockey is a premium WordPress application theme that will help you start your own job board with practically no effort. As your business grows, you'll need to attract new talents and that won't be easy. You'd be busy searching for talents but we can help with the technical stuff.
JobJockey is a cost-effective solution that handles job posting and application within a WordPress environment. Alternatively, you could use JobJockey to turn your website traffic into money by letting people post job vacancies and apply for those on your own WordPress-powered website.
Jobsapp – Job Board WordPress Theme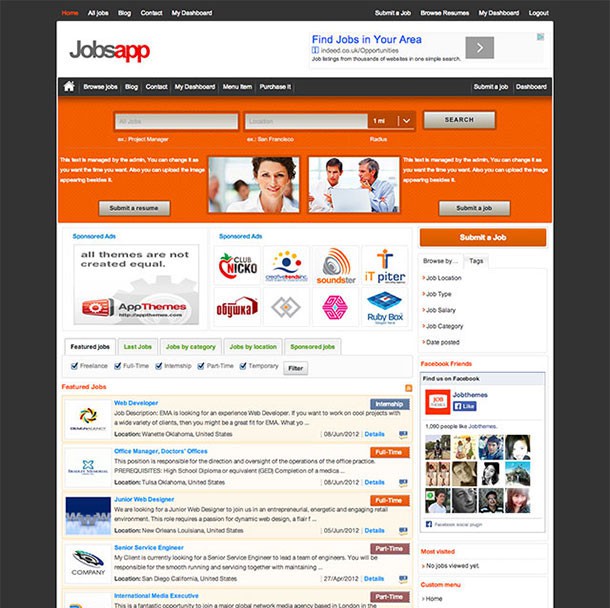 Jobsapp is a responsive premium JobRoller child theme , it comes with crafty design and featrures that will make your job board or blog truly stand out.
Its main peculiarity is to make from JobRoller an authoritative yet creative, professional and easy to navigate job listing website.
JobsHub – Job Portal WordPress Theme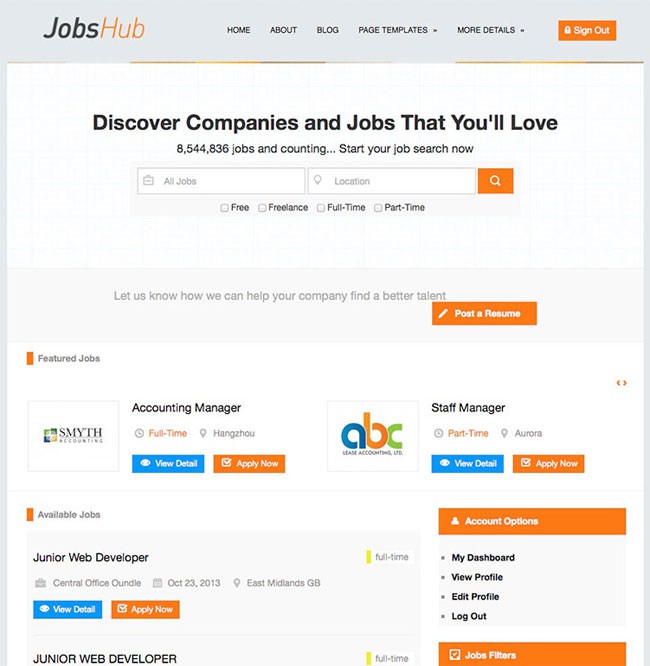 JobsHub is a web app WordPress theme which will turn your blog become a professional job listing site.
With the 'auto pilot' feature this theme has, your work will become easier than it never before. With its payment options such as PayPal and Bank Transfer, you will turn your site traffics become an income by letting people to post their CV and job vacancies then let them apply for the jobs available on your WordPress powered site.
This theme also offer many features that will help you to build great job listing site such as search engine optimization and many others. And in fact that this theme is WordPress based site, you can set up this theme in seconds. Also with clean-look layout, JobsHub is easier to be customized.
Jobpress – Job Portal WordPress Theme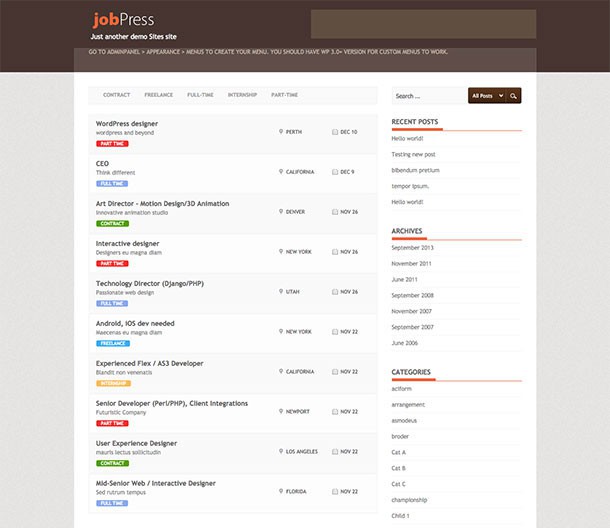 Jobpress is a very special theme from fabthemes. With this theme you can host your own Job board for free. Registered users can submit job listings on your site and an admin can review and publish it. This theme is WordPress 3 ready with features like Custom menu, custom post types, custom taxonomies, Custom page templates, widgetized sidebar, and it includes 2 custom widgets and theme option page.
Babysitter – Responsive Job Site WordPress Theme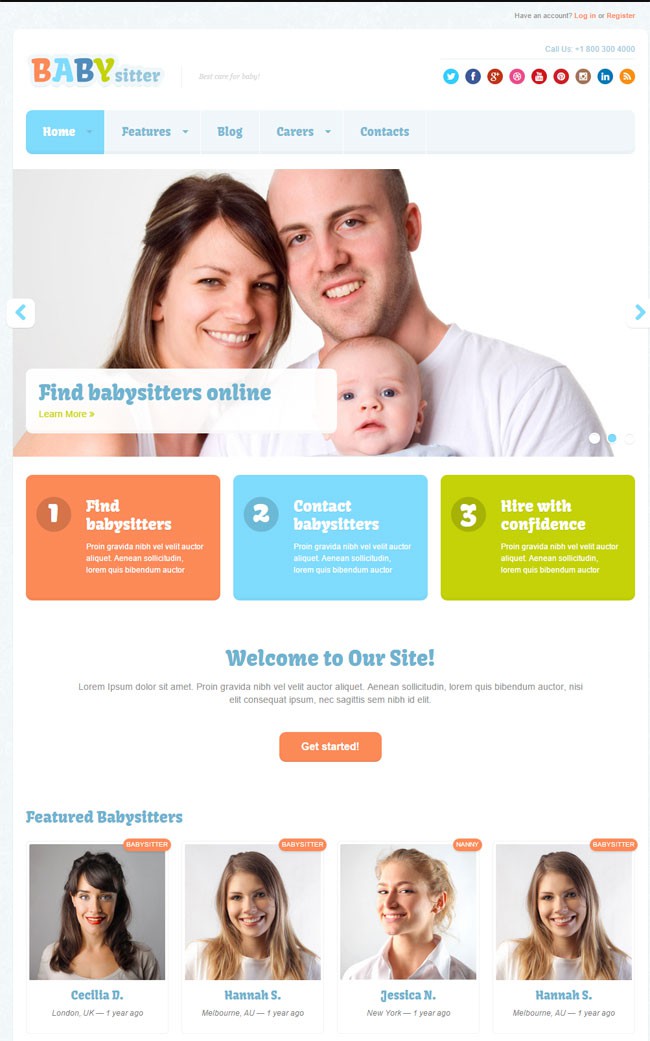 Babysitter is a flat, clean and responsive theme. It is suitable for babysitters/nannies site, a mom's blog or other baby oriented sites. Babysitter Theme can be a great starting point for your Job Site for babysitters/nannies.